The Annotated Wacky Packages All-New Series 2 and 3
Slacker Jack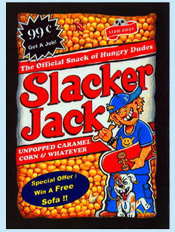 Unpublished (Slated for All-New Series 3, December 2005)
Cracker Jack 99¢ snack bag
Frank Santopadre/Jeff Zapata
"Slacker Jack" was painted for All-New Series 2, but Topps held it back from the final line-up, possibly because the company had an arrangement to produce Cracker Jack baseball cards at the time.

Fans' first look at the title came courtesy of artist Tom Bunk, by way of Barren Aaron. Next, a Topps flyer that advertised the Official Collector Album showed the unpublished "Slacker Jack" sticker in an album pocket (the flyer may have been developed at a stage when "Slacker" was still included on the series checklist).

Promotional material for ANS3 shows that "Slacker Jack" is again a candidate for publication in late 2005.
The classic Cracker Jack box was the subject of one of the very first Wacky Packages, "Cracked Jerk", in 1967.