The Annotated Wacky Packages All-New Series 1
Unpublished Paintings
Swansong Snot Pie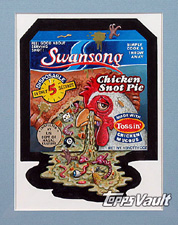 Unpublished

Swanson Chicken Pot Pie
(believed to be) Jay Lynch
"Swansong" was painted for All-New Series 2, but was held back from the final card roster—most likely because it presented the original product in an extremely unappetizing light.

The preliminary ANS1 checklist that Topps mailed to retailers in early 2004 listed "Swansong" as base sticker #6. It was replaced in the published series by "Foot Gushers."

The picture (above right) links to a larger version from the Topps Vault auction image archives.