The Annotated Wacky Packages All-New Series 1
Unpublished Paintings
Snot Cakes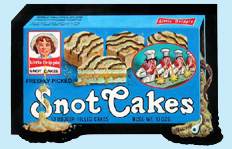 Unpublished

Unknown
Tom Bunk (cited by Topps Vault)
The preliminary ANS1 checklist that Topps mailed to retailers in early 2004 listed "Snot Cakes" as base sticker #35. It was replaced in that slot in the published series by "Martha Skewered."

The art for this title was not seen by the public until May 2009, when it was auctioned by the Topps Vault. The auction text identified the artist as Tom Bunk, and proclaimed it as a leftover from the 1991 series.